​​​​​​​New gene therapy innovation centre to advance scientific discoveries into life-changing treatments
A pioneering gene therapy innovation centre at the University of Sheffield is set to advance scientific discoveries into promising treatment options for millions of patients with life-threatening diseases.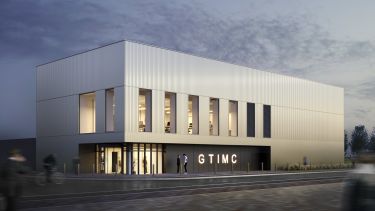 The Gene Therapy Innovation and Manufacturing Centre (GTIMC), led by Professor Mimoun Azzouz, is one of three pioneering hubs announced today (18 March 2021) in a new £18 million network funded by LifeArc and the Medical Research Council (MRC), with support from the Biotechnology and Biological Sciences Research Council (BBSRC).
Gene therapy is a promising treatment option for more than 7,000 rare diseases that currently have no cure. It aims to treat these conditions, by engineering another gene to replace, silence or manipulate the faulty one.
The UK has a world-class genetics research base – however, to date, academics have found it difficult to get access to the clinical materials, facilities and expertise required to progress gene therapy research into clinical trials.
Professor Mimoun Azzouz, Director of the GTIMC and Chair of Translational Neuroscience at the University of Sheffield, said: "The Gene Therapy Innovation and Manufacturing Centre will tackle major challenges in gene therapy development for some of the most devastating diseases. Gene therapies are pioneering medical advances that have the potential to offer much-needed, novel, effective treatments for many rare and incurable diseases that cannot be treated by conventional drug compounds.
The new centre, which will be the first in the north of England, builds on the University of Sheffield's strong history of translational research and its reputation as an international centre of excellence for gene therapeutics.
Professor Dame Pam Shaw, Director of the NIHR Sheffield Biomedical Research Centre and co-applicant on the GTIMC application said: "This exciting development and partnership will speed up the pull through of new gene therapies into early phase clinical trials and offer hope to patients with neurological and other rare diseases that can be addressed in this way. The support given to this initiative will greatly accelerate the translational potential of genetic therapies in the UK and bring benefits in key areas of unmet medical need.
The state-of-the-art centre will bring together academic institutions, NHS trusts, non-profit and industry partners across the north of England, Midlands and Wales enabling academic-led clinical trials of novel gene therapies. The GTIMC will deliver essential translational and regulatory support alongside extensive training and skills programmes to enable upskilling and address shortage of skills in Good Manufacturing Practice (GMP) manufacturing.